Pax Labs, market leader in herbal vaporizers, stands out for its commitment to redefining the way we experience plants and natural extracts. With the recent renewal of its flagship PAX Plus and PAX Mini models, Pax Labs has taken a new step into the world of portable vaporizers, renewing its range of vaporizers that are as elegant as they are powerful, and taking the vaping experience to new heights. With over a decade of research and development behind it, the company is constantly pushing the boundaries of innovation and technology, placing well-being and the user experience at the heart of its priorities. In this article, we discover how Pax Labs has once again enhanced the vaping experience on its 2 flagship models: the PAX Plus and the PAX Mini.
The PAX Mini is the smallest vaporizer in the PAX Labs range to date, perfect for individual CBD sessions on the go, while the PAX Plus, admittedly not much bigger, stands out for more features and vaporization quality.
THE ULTIMATE PORTABLE VAPORIZERS
PAX Plus integrates a host of features in a design that's as simple as it is elegant. The new integrated Experience Modes let you choose different flavor and vapor combinations at the touch of a button. Design enhancements include an enlarged LED screen, a premium matte coating that's soft and pleasant to the touch, new color-coordinated end caps and rounded edges that make the PAX Plus a pleasure to use, enhancing its overall grip and ergonomics. A redesigned 3D oven screen and improved multi-purpose tool simplify cleaning. You'll always get the best out of your CBD flowers and extracts with a battery life of over 2 hours and a heat-up time of just 22 seconds.
MORE FLEXIBLE AND RICH IN FLAVOR
PAX Plus offers high-quality vaping experiences that faithfully reproduce the aromas of your CBD flowers and other dried herbs. The PAX Plus comes with 0.25 g and 0.5 g oven lids to offer greater flexibility for individual or shared sessions. An adapter for dry herb extracts makes it easy to enjoy solid, waxy extracts. You'll get consistent flavour, aroma and power, with no aggressive smoke thanks to patented temperature control. The Pax Plus, like the Pax Mini, offers even greater flexibility of use and an even higher quality finish for your CBD and other flowers!
SIMPLIFIED EXPERIENCES
PAX Plus offers four integrated Experience Modes for greater control over your sessions. No application is required, and a single button lets you choose from four options for the ideal combination of steam and flavor:
Discretion mode: Minimizes steam and dims LEDs for ultimate discretion.
Efficiency mode: Optimizes steam production and preserves materials.
Flavor mode: brings out the subtleties of flavor with on-demand steam.
Power mode: Ideal for CBD extracts, offering maximum vapour.
We told you in our previous article that Pax Labs reminded us of Apple, and we weren't mistaken: just like the Apple brand, the famous brand of vaporizers does its utmost to make its ergonomics and user-friendliness as intuitive as possible!
LESS MAINTENANCE, MORE PLEASURE
The PAX Plus features a new 3D oven screen and an improved design for the multi-purpose tool to facilitate cleaning. The 3D screen is easier to remove, and a metal brush is included for quick cleaning of your PAX Plus. The included multi-purpose tool has rounded edges to make emptying and cleaning the oven easier than ever.
POWER IN POCKET SIZE
With PAX Plus, just fill it up and go. Over two hours of battery life and a 22-second warm-up time mean you can enjoy quick, easy sessions. Its magnetic oven lid means PAX Plus is ready to go wherever and whenever you are.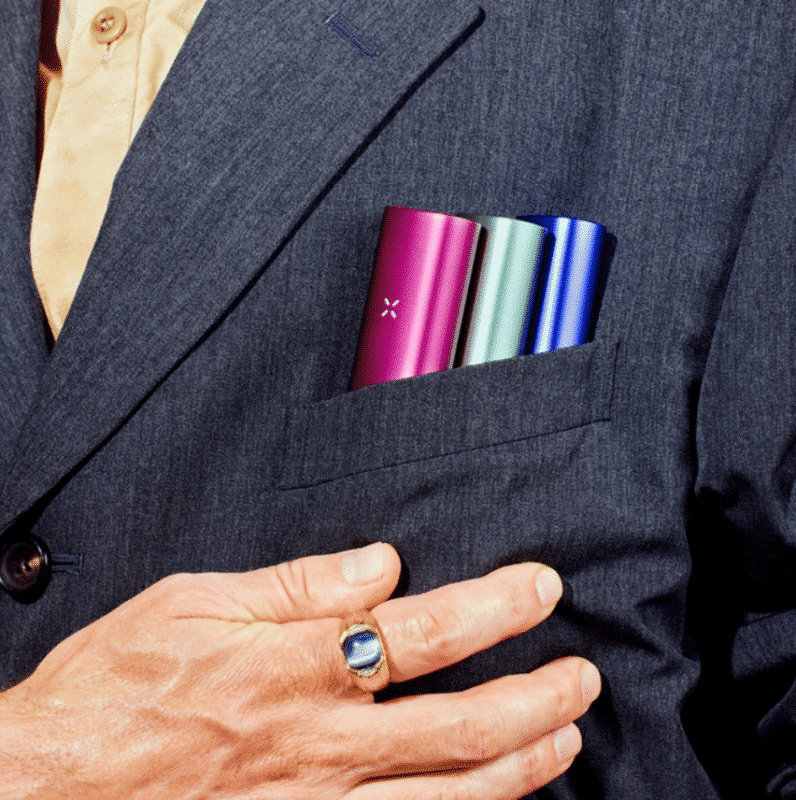 VAPE DISCREETLY
The PAX Plus packs a host of features into a vaporizer that fits comfortably in your pocket. Turn it on, take a puff and turn it off. PAX Plus produces no smoke and much less odor than combustion, allowing you to vape whenever and wherever you want. Add to this a 10-year limited warranty, and the new versions of PAX Plus and by extension PAX Mini are the perfect combination of power and portability.
In conclusion, Pax Labs is an undisputed pioneer in the field of portable vaporizers. With the renewal of PAX Plus and PAX Mini, the famous vaporizer designer is shaping the future of vaping and setting market trends by combining technological innovation with a commitment to quality. Pax Labs vaporizers offer much more than simple vaping sessions: they provide a refined, customizable and long-lasting experience for users in search of new sensations. Thanks to a research-driven approach, meticulous design and cutting-edge technology, Pax Labs continues to push the boundaries of what's possible in the world of portable vaporizers. Whether you're an amateur or an expert in the use of dry herb vaporizers, the new Pax Labs Plus and Mini will have more than one argument to seduce you! As always, CannaHouse opens its doors to you so you can see these famous vaporizers and learn more about them!